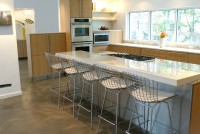 Advanced Leveling & Concrete Solutionsan engineered cement installation specialist with extensive expertise in substrate preparation including self-leveling underlayments, concrete resurfacing and repair. In a partnership with Ardex Engineered Cements, I offer a wide array of high-preformance concrete solutions for general contractors, designers, architects and homeowners that include self-leveling underlayments, designer interior/exterior floors, interior concrete walls,

re-sloping and restoring patios and moisture related issues. Advanced Leveling & Concrete Solutions is an
ARDEX LevelMaster Elite Installer®
as well as a
PanDomo
®
Elite Installer
™
committed to excellence in all aspects of the engineered cement business.
An ARDEX LevelMaster Elite Installer
®
is a highly skilled flooring professional dedicated to providing the very best flooring installation quality and craftsmanship to their customers. Endorsed by Ardex Engineered Cements, and supported by Ardex Technicians and Regional Sales Professionals, the ARDEXLevelMaster Elite Installer® provides both experience and technical know-how, assuring customers the very best in substrate preparation, installation services and flooring solutions.
PanDomo
®
Elite Installer by ARDEX is a modern surfacing system that provides total architectural design freedom. When you're creating floors, walls or ceilings, everything starts with your individual concept. No matter what look you decide on, whether classic, refined and homogenous or entirely unique, PANDOMO
®
product systems and Advanced Leveling & Concrete Solutions can make it happen. Advanced Leveling & Concrete Solutions can be reached at 214-774-2299 or
brian@alcs-online.com
with any further questions.